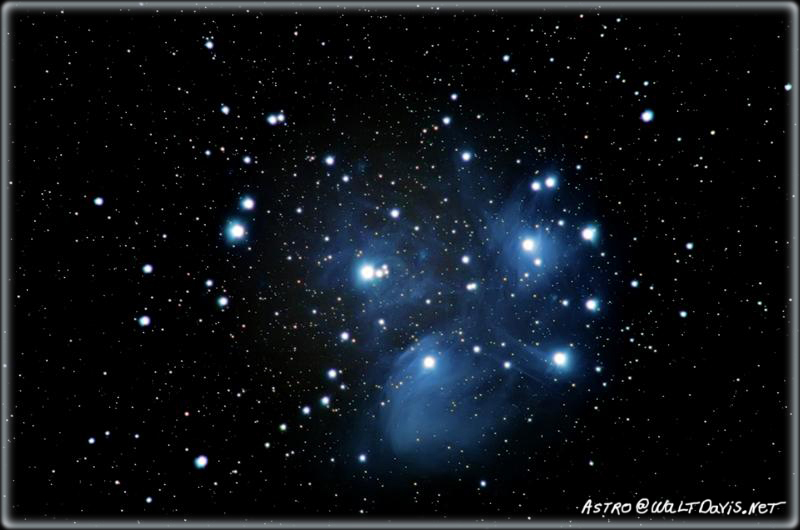 | | | |
| --- | --- | --- |
| History | Hi Res | | |
Object Information
| | |
| --- | --- |
| Name: | M45, The Pleiades, or Seven Sisters |
| Type: | Star Cluster with Nebulosity. |
| Description: | M45 (the Pleiades) is a very bright star cluster that can be seen easily by the human eye as a bright patch in the sky. Its beautiful to look at with binoculars and is a winter time favorite. This picture was taken with a Nikon D70 and a 600mm f4 ED lens. |
| Magnitude: | 1.2 |
| Size: | 100.0 x 100.0 arcminutes |
| Related Photos: | none |
| References: | |
Acquisition
Location:

Latitude 44.841N by Longitude -122.869W at an elevation of 87 meters.
Aumsville, Oregon USA

Date:

September 12, 2008

Zone:
-8 (Pacific Standard Time)
Equipment
| | |
| --- | --- |
| Imager: | Nikon D70 |
| OTA: | Nikkor 600mm f4 ED super telephoto lens |
| Barlow: | none |
| Platform: | 2X Super Modified Nikon Imaging Platform |
| Guiding: | Orion StarShoot DSCI II, Nikkor 300mm f2.8 ED lens, and MaxIm DL Essentials. |
Imaging
| | |
| --- | --- |
| Mode: | Mode 2 |
| White Balance: | Sunlight |
| Color Space: | sRGB |
| Format: | RAW (3008 x 2000) |
| Light frames: | 8 x (5 Min @ ISO 200) |
| Darks: | none |
| Flats: | none |
| Filters: | Nikon 39mm UV/IR |
| Mask: | none |
| f-stops: | f4 |
| FOV: | 136 x 89 arcminutes |
| Scale: | 2.71 arcseconds per pixel |
| Software: | Nikon Capture 4 Control |
Image Processing
| | |
| --- | --- |
| Stacking: | Deep Sky Stacker 3.2.1 |
| Combined: | Average |
| Processing: | PhotoShop CS3, Astronomy Tools CS2 V1.5, New Astro Zone System, Noiseware Professional Plugin. |
Notes
Stars away from the optical axis show significant flare.

While the Nikon 600mm ED Lens is a high quality lens; all lenses of this size are have aberrations like this especially when at full aperture.

One way of removing aberrations is to stop the lens down at least by two steps; however, on bright stars this will produce very large refraction spikes.